Wooden milking pail
Wooden pail held together with two metal staves. is lacquered. The pail was used in hand milking.
2013.159 D00297
Stainless steel milk pail
Well used stainless steel milk pail with two handles.
2013.34.1
Milker surge
Milker hung from cow supported by strap going over back of the cow. The milker is hooked up to a milker pump. Made by Babson Bros. Co.
2013.153.1
Surge milker
Two teat, surge milker. Universal model 127. Stainless steel with rubber hoses.
2013.141 D0068
Milking inflation devices
Surge orange and white box containing four black milking inflation devices.
2013.110.1
Milking inflation device
Black milking inflation device in a box of four.
2013.110.1
Milk pump
De Laval milk pump with attached General Electric Co. Motor. Pump painted red and motor black. Manufacturers plaque on motor and embossing on pump. Coca Cola bottle inside side cage of pump.
2013.98.1
Pump, milking
Milking pump. Pump mechanism painted green. Rest of the body painted black. Embossed patent date on pump. Manufacturers plaque on motor.
2013.97.1
Milk Can
Large milk can used for storing and transporting milk to a cheese factory. The can was lowered into the well.
2013 162 D002881
Well crank system
The milk cans were lowered into the well to keep the milk cool before it was transported to the cheese factory. The arm can be turned and the milk can lowered on to the milk cart.
2013.163 D00294
Milk can
Large milk can with a hole in the lid for pouring in the milk, Embossed plaque marked Charles Ashley, Foxboro, ONT.
[Ashley Cheese Factory, Foxboro, built in 1871 by Harford Thurlow Ashley. A Cyclopedia of Canadian Biography: Being Chiefly Men of the Time ..., Volume 1 edited by George Maclean Rose.
2013.166.D00959
Ceramic jar for lime
Cream coloured ceramic jar with blue stamped Conde on side. Red rubber hose coming out near top. It is a container for lime used to clean the line of milking machines.
2013.170 D00817
Teat cup rack
Blue and grey De Laval teat cup rack with a slide holder for two sets of four teats. Used for cleaning the teats.
2013.146.1
Milk strainer
Stainless steel milk strainer with two handles with some surface rust.
2013.29.1
Shallow milk filter
Wide shallow milk strainer with detachable sieve used with a filter placed on top of a milk can.
2013.31 D00960
Box of filters
Box of paper filters used to strain milk. Rapid Flo Milk Filters, Johnson and Johnson Ltd. 6" plain disc. Piece of box lid is missing. Blue and white.
2013.86
Cream seperator
Aluminum milk pail with glass insert for measuring and a spiget at bottom outside of pail. Great West Metal Products Ltd.
2013.164 DO6590
.
Cream can
Dull grey cream can etched Stirling Creamery.
2013.157.D00091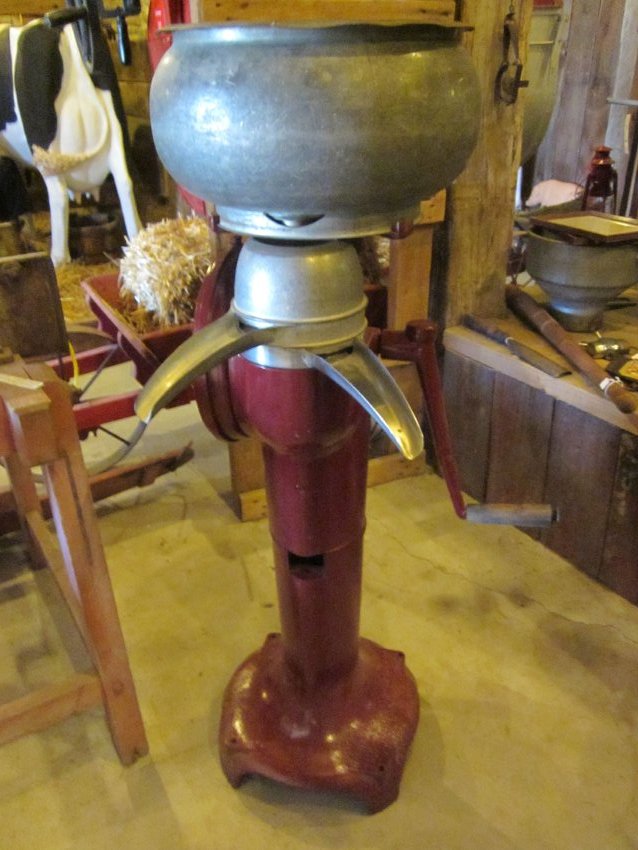 Cream separator
McCormick Deering Cream Separator, post 1940 because it is Dubonnet Red in colour. Prior to 1940 McCormick Deering Cream Separator were cream. The bowl is marked 13.072.001b.
2013.72.1
Cream Separator
10 gallon Cream separator with three squared wooden legs. Painted teal on the outside, 10 gals put on top of paint. Three glass viewing slots and a tap at the bottom for removing skimmed milk.
2013.23.1